Etymolgy of the name Ibrahim
According to Quran, Ibrahim was known by this name since he was very young:
Qālū Sami`nā Fatáan Yadhkuruhum Yuqālu Lahu 'Ibrāhīmu
[They said, "We heard a young man (fata, in Arabic) mention them who is called Abraham."] Surah Al-Anbya [21:60]
It seems that his people called him Ibrahim (since his youth). The reason they called him by that name (Ibrahim), must be related to his conduct (to what he was doing). And what that (young man) was doing, is known to us (from the Quran):
(1) Ibrahim said to his people: I am BA-RAA of what you worship
Wa 'Idh Qāla 'Ibrāhīmu Li'abīhi Wa Qawmihi 'Innanī Barā'un Mimmā Ta`budūna
And when Abraham said unto his father and his folk: Lo! I am innocent (BA-RAA) of what ye worship (26) Az-Zukhruf
And when Ibrahim said to his father and his people: Surely I am clear (BA-RAA) of what you worship
(2) Ibrahim and his followers said to their people: We are BU-RA-AA from you and from what you worship
Qad Kānat Lakum 'Uswatun Ĥasanatun Fī 'Ibrāhīma Wa Al-Ladhīna Ma`ahu 'Idh Qālū Liqawmihim 'Innā Bura'ā'u Minkum Wa Mimmā Ta`budūna Min Dūni Allāhi
There is a goodly pattern for you in Abraham and those with him, when they told their folk: Lo! we are guiltless of you and all that ye worship beside Allah. (4) Al-Mumtahina
(3) Ibrahim TA-BAR-RA-AA from his father
Wa Mā Kāna Astighfāru 'Ibrāhīma Li'abīhi 'Illā `An Maw`idatin Wa`adahā 'Īyāhu Falammā Tabayyana Lahu 'Annahu `Adūwun Lillāhi Tabarra'a Minhu
The prayer of Abraham for the forgiveness of his father was only because of a promise he had promised him, but when it had become clear unto him that he (his father) was an enemy to Allah he (Abraham) disowned (Tabarra'a ) him. (114) At-Tawba
TA-BAR-RA-AA is a verb, if we say: father TA-BAR-RA-AA from son = father is no longer linked or related to son.
(4) Ibrahim said: I am BA-REE from shirk
Qāla Yā Qawmi 'Innī Barī'un Mimmā Tushrikūna
O my people! Lo! I am free from all that ye associate (with Him). (78) Al-An'am
Now we need to notice these above mentioned Arabic words included in the Qur'anic verses about Ibrahim [BA-RAA], [BU-RA-AA], [TA-BAR-RA-AA], and [BA-REE]. All these words are from Arabic root [BA- RA -AA] or simply [BRA], and it has to do with meanings like [out from, exclude, not included, innocent, clear from, clean of, pure from, not part of, …].
If you say in Arabic [I am baree from this or I am baraa from it], then it is like you are saying [I am out of this, I am innocent of this, I have nothing to do with it, I am pure of it, I am not part of it, …].
Now I think we know why his people called him by the name IBRAHIM (I-BRAH-im). Because the deeds or attitude of Ibrahim towards the religion of his people (worshipping the idols) was negative or hostile. Ibrahim position or view toward the idols is like (I have nothing to do with you- I am not part of your thing- I am out of this, I am rejecting the idols, I am refusing the gods, …).
Quranic verses were pointing and hinting to the etymology or origin of his name Ibrahim through using these words:
(1) [BA-RAA], [BA-REE] same meaning=innocent (singular)
(2) [BU-RA-AA] innocents (plural)
(3) [TA-BAR-RA-AA], verb (to forsake, abandon, to be not part of).
So, Ibrahim (since he was a young man) was saying to his people: I am out of your idol worshipping. Or in his own ancient tongue (which is like Arabic, but old Arabic) he was saying something similar to this: I am BARAA or I am BAREE from your idols.
Therefore, his people called him by a name which just means that (I.e. the man who is not part of the gods worshipping) or the man who is (BARAA/BAREE) of the gods. Or as they really called him by their ancient tongue: IBRAHIM.
So, the name Ibrahim means (BARAA) or (BAREE) from the idol worshipping. But we need to explain the name more.
The name Ibrahim is very ancient name, its language is ancient North Hijazi (very old Arabic) and it is very much like Hebrew or Canaanite (Phoenician, Ugaritic, ...) or some tongue in-between of Hebrew and very old Arabic.
***
We can divide the name Ibrahim into 4 parts: I+ brah + i+ m.
(1)
The first part (I) or (y) is put in the beginning of the past verb (brh) like this (i+brh) or like (y+brh) so that we get present tense verb (ybrh). Fore example: (drs) in Arabic is like studied, but (ydrs) is like (is studying).
This ancient verb (ybrh) ends with (h). But it is now in Arabic pronounced (ybra), which ends with (a). So, if you pronounce Ibrahim with verb ybra, it will be like Ibra-a-im. But the name is Ibra-h-im (because it contains verb: ybr-h not ybr-a). Ancient tongue prefers the (h) more than (a). For example, ancient tongue (h-sfr=the book), but Arabic (a-sfr).
(2)
Another little difference between ancient verb (ybrh) and Arabic (ybra): An Arab will pronounce (ybrh) as ybrh. But the ancient verb (ybrh) is pronounced like ybrah. I will exaggerate the pronunciation to make the point very clear… in ancient tongue ybrh is pronounced like ybraaaaah
That's why the pronunciation of name Ibrahim is like Ibraaaaaaahim (I am exaggerating to show the point). Because it contains verb ybraaaah not the assumed Arabic pronunciation ybrh (real Arabic is ybra).
So, until now, we explained the (Ibraaaah-im) or (ybraaaah-im) of the name Ibrah-im (Ibrahim).
I hope we remember that (ybrah) means (to be innocent of/be out of/to clear oneself from/...). Because Ibrahim is (ybrah) from the false gods.
(3)
This letter (i) in (im) at the end of name Ibrah-im, we shall postpone now and explain it with part 4.
(4)
The last letter (m) in the name (Ibrahi-m). This last letter (m) means them (I.e. the false gods or the idols). So, for sake of simplicity, let's make the name Ibrahim like (ybrah-m), this means that Ibrahim [is excluding himself (=ybrah)] from the false gods (=m).
It's like the name Ibrahim means: He is excluding himself from them/ He is purifying himself from them/ He is cleaning himself from them/ He is cleansing himself from them/ He is making himself innocent from them/ He is disconnecting himself from them/ He is clearing himself from them/ He is separating himself from them/..
This is the simple meaning of the name Ibrahim : (clearing) himself from (them).
Or as his people said it: ybrah-i-m
Explaining letter (i) in Ibrah-i-m
The last thing is letter (i) in (Ibrah-i-m) name. This (i) is called tsere in Hebrew, it is vowel sound (e), (ee), (ei) sign represented by two dots " ֵ " underneath a letter. That sound (e, I, ei) appears in words like El or אֵל (notice the two dots under אֵ) or Israel יִשְׂרָאֵל (notice letter אֵ). That sound (e, I, ei) is similar to what is in these English words: sell, tell, well, kill, ten, red, eight, they, bed.
Examples
These are Hebrew words (reading Hebrew text from right), notice that the last letter in the Hebrew word is ם or (m), and it means (them). This letter ם is the last letter in Ibrahi-m. Also notice the letter before the last (the letter before ם), you will see two dots under it. This is equivalent to the (i) in the name Ibrah-i-m.
(1)
Joshua 22:6/ to bless them/ (y-ḇā-rə-ḵêm) or (ybark-i-m)/ יְבָרְכֵם / notice the two dots (tsree) under the letter כֵ
(2)
2 Kings 23:4/ to burn them/ (yiś-rə-p̄êm) or (ysrf-i-m)/ יִּשְׂרְפֵם
/ two dots under the letter
פֵ
(3)
Leviticus 8:13/ to dress them/ (yal-bi-šêm) or (ylbsh-i-m)/ יַּלְבִּשֵֽׁם
/ two dots under
שֵֽׁ
(4)
Psalm 28:5/ to destroy them/(ye-her-sêm) or (yhrs-i-m)/ יֶהֶרְסֵם
(5)
Psalm 28:5/ to build them/ (yiḇ-nêm) or (ybn-i-m)/ יִבְנֵֽם / two dots under
נֵֽ
(6)
Exodus 6:1/to drive them out / (yə-ḡā-rə-šêm) or (ygrsh-i-m)/ יְגָרְשֵׁם / two dots under
שֵׁ
<![if !vml]>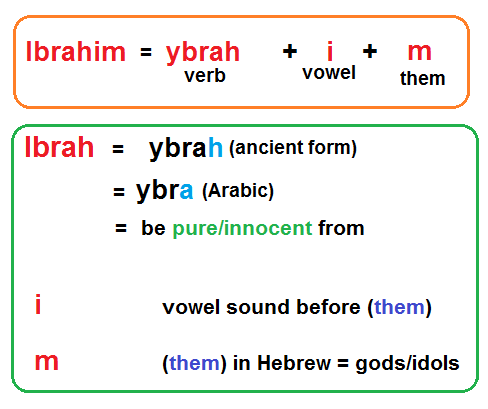 <![endif]>
Hamed AlAwlaqi